As a former Richmond local, I had a very short list of recommended local hotels for out-of-town friends. At the top of the list always remains the historic and luxurious Jefferson Hotel in the heart of the city. Opened on Halloween day in 1895, the hotel has a long, rich and quirky history to include an atrium of alligators, a fire that almost ended the hotel, restoration efforts that unwittingly led to the discovery of original wood and marble, and quite the list of famous guests including 13 presidents, Frank Sinatra and Elvis Presley.
When you walk in, you are greeted warmly with a robust staff that are always professional, friendly and prepared to anticipate your needs. The room opens up into an expansive lobby, known as the Palm Court. You are suddenly surrounded by columns and stained glass arched windows, with an intricate stained glass rotunda above a large statue of Thomas Jefferson.
Marble floor walkways lead to the statue between swathes of rich red carpet with plush arm chairs and couches. When you walk on the marble floors, the acoustics give you the sudden feeling that perhaps this is not just a hotel, but a museum of beautiful antiquities. The first time I set foot inside the lobby, I instantly felt grateful for being able to experience such a beautiful, historic space before it, like most great monuments of history, becomes only a memory. Perhaps that is the normal response of most Richmonders, who can only reminisce about afternoon teas at Miller & Rhodes or the Richmond Room at Thalhimer's (which was actually made nationally famous for a civil rights sit-in in 1960).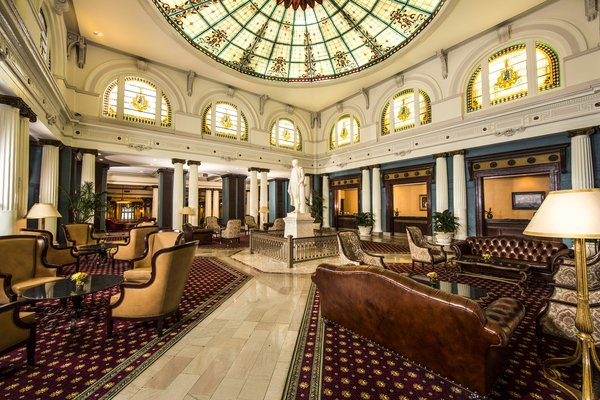 Beyond the lobby, there are a few tables that overlook the expansive, and famous ballroom. At these tables as well as the lobby couches, you can receive afternoon tea, something I highly recommend. The chocolate lover's tea is pure decadence, but I actually prefer the regular afternoon tea, with a balance of savory sandwiches, chocolate pound cake, and the best scones and devonshire cream I've ever had. The go-to tea enjoyed by most at the Jefferson is the Richmond blend, a spicy black tea with cinnamon oil, orange peel, and cloves – a must try.
The Grand Ballroom is an experience unto itself, with elaborate chandeliers, gilded details on the ceiling, the grand staircase supposedly the inspiration for Gone with the Wind, and ornate columns. The Sunday champagne brunch is a wonderful experience, with impeccable service and scrumptious made to order omelets, seafood, prime rib, fresh fruit, Virginia ham, french toast and some amazing desserts.
The rooms and suites are cozy, designed and decorated in historic, traditional style. Custom designed furniture, heavy draperies, 18th century antique reproductions and ornate fire places make the spaces feel historic, yet filled with all the modern amenities you'd expect to find in a hotel – cable, wifi, and yes, a mini bar. A small, but nice perk is the Molton Brown collection of amenities provided in each room. These products smell wonderful and are actually one of the few hotel-provided personal products that I actually use and enjoy.
The hotel also offers an indoor pool, fitness center, salon and spa, two restaurants and a bar, flower and gift shop, free transportation to downtown Richmond, evening turn down service and large, grand options for weddings and events.
As a lover of historic architecture, art, and good old nostalgia, the Jefferson Hotel will always hold a special place in my heart. If you're ever in Richmond, you should head over and see why it's so special. If not a full night's stay, at least for a cup of tea and scones.
–
PINTEREST | TWITTER | INSTAGRAM