Jennifer Lawrence is starting to really up her fashion game. Who doesn't love this girl? She has a guy's sense of humor, is down to earth, gorgeous and now she's definitely turning up the style factor. She's one of those celebrities that really seems like she'd be fun to just hang out with…and go shopping on 5th. Here's a lace and trench look that she wore yesterday that I'm in love with. A little sweet, a little sophisticated, a little edgy. And those sunglasses? Girl, stop it. This Fall look is fabulous.
Seriously in love with her coat…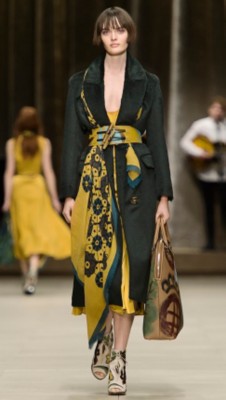 –
To get the luxe look for less, let's take a look at her individual pieces:
–
Dress: Nina Ricci Sleeveless Lace Dress with Organza Pleats, $4,290 (Similar available here)
Coat: Burberry Alpaca Wool Topcoat, $2,995 (Similar available here)\n\nBoots: Roger Vivier Peep Toe Leather Ankle Boots, $1,391
Sunglasses: Leisure Society Byron Sunglasses, $615
Total: $9,291
–
To get this luxe look for less, let's take a look at a couple of fabulous budget savvy options.
–
Luxe Look for Less

Dress: BB Dakota Rylin Lace Dress, $106 (Similar available here)
Coat: Lauren Ralph Lauren Double Breasted Coat, $350 (Similar available here)\n\nBoots: VC Signature 'Nikoletta' Peeptoe Bootie, $160 (Similar available here)
Sunglasses:Toms Bellevue Shiny Black, $98 S(Similar available here)
Total: $714
–
Luxe Steal
Dress: Jessica Howard Women's Sleeveless Belted Pleated Hem Lace Dress, $61 (Similar available here)
Coat: Superdry Bridge Coat, $250 (Similar available here)
Boots: Vince Camuto Kammie Peep-Toe Bootie, $99 (Similar available here)
Sunglasses: ASOS Quay Flyn Round Sunglasses, $47 (Similar available here)
Total: $457